Bathing a Dog, Things You Should Keep In Mind?
When we have a dog, it is very important to take care of its cleanliness. Because if we don't keep it clean, it will get sick. Also, any member of the family may get a serious illness, as well as our dog, should be neat and clean.
Also, it has to be seen what the size of our dog is, and what breed it is. Does, it have any allergies to any product? It is very important whether to bathe the dog outside or inside. You can make bathing a dog experience very pleasant.
Preparations for dog Bath
Let us know what preparations are necessary for a dog bath.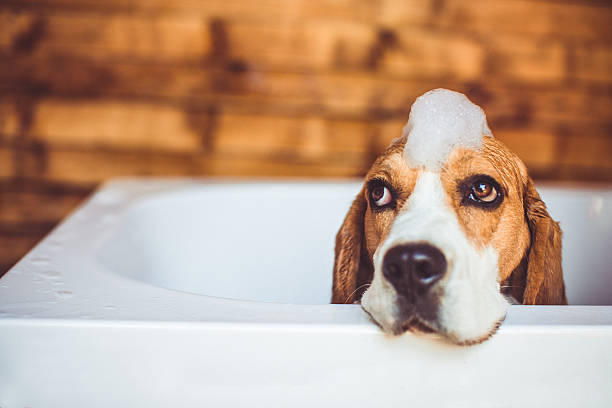 1. Identify a Plane Place
First of all, we have to see that if the dog is small then we can bathe it inside. For this we have many options like a small bathtub, and sink. If the dog is big in size, then we can bathe it in the shower or in a big tub. And yes, if it is not cold, you can bathe him outside.
When we bathe our dog, wherever we are bathing him, the place becomes slippery, it has to be taken care of. These things can be avoided by taking care of few things given below.
When bathing your dog, you can put rubber pads in the bathtub, on the floor, and in the sink.
And if there is no rubber pad, you can use any old clean dog cloth in the bathtub or sink.
2. How to prepare your dog for a bath
Whenever you take your dog for a bath, it is important to keep in mind that do not make him stand directly in the shower or bathtub.
Keep the dog calm; let him get used to the place where you want him to bathe. Make him feel better.
If your dog has long hair, take some time to brush it well.
If the dog's hair is too long, then they might get tangled, and if not brushed properly then it becomes difficult to untangle them.
Take off your dog's collar before bathing.
If you want, you can also put cotton in your dog's ears so that water does not enter the ears.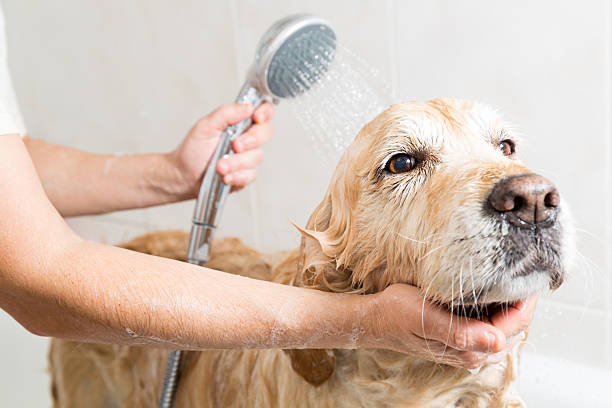 3. What products are necessary for dogs at the time of bath
As described above, after choosing the right place, keep in mind the size of the dog.
Some pet parents make special bathtubs for their dogs according to their size.
If you want to bathe your dog in the bathtub of the family bathroom, then extra care needs to be taken so that fur does not choke in the bathtub.
Some pet parents make a place for their dog to bathe in an open area, Special care should be taken regarding cleanliness.
Make sure you are familiar with all the products you are using in order to avoid last minute hassles.
The source of water supply should be optimum, and at what speed water is dispensed.
Water temperature should be correct. If it is cold weather, then lukewarm water can be used.
If you want your dog to wear clothes, then keep his apparel ready so that he can wear it soon after bathing.
4. Right way to bathing a dog
When you are sure where to bathe the dog and the items you bathed are in place, then you can start the process of bathing a dog.
1. First of all let him be a little comfortable and make him feel positive. After that, leave him in his bathtub or place.
2. After that you take any dog shampoo, take it out in a bowl, and after that put some water in it and stir it a little. After that put the shampoo from that bowl in his bathtub and mix it well because shampoos are very thick, it will be easy to mix them in water.
3. Wet your dog by slowly pouring water on it. Also, take a look at the temperature of the water.
4. After this, when you go to shampoo your dog, keep in mind that shampoo should be done 2 times. The first time you shampoo your dog, it will help remove dirt that has stuck to the dog's hair, When you shampoo your dog for the second time, it will completely remove the dirt and oil left in its skin. You can also use a loofah or any soft cloth to shampoo your dog, it will prove to be very helpful, You can also give your dog a light massage with your hands, this will make the dog feel good also use lukewarm water.
5. After washing it well with water, apply conditioner on it with light hands and massage it lightly so that the conditioner covers the whole body. After applying the conditioner, leave it for 5 minutes and then wash it with water.
6. You have to make sure that all the shampoo and conditioner are completely washed off his skin and hair. If any product gets on the dog's skin, it can irritate or itch your dog.
Wahl Dry Skin & Itch Relief Pet Shampoo for Dogs Click Here!
Warren London Hydrating Butter Leave-in Dog Conditioner Lotion for Skin and Coat Click Here!
Maxpower Planet Pet Grooming Brush Click Here!
5. (Bathing a dog) Is your dog afraid of water ?
If the answer is yes, then you have to take care of few things. You must have often seen that some dogs are not afraid of water at all, but they like to play in the water and have fun. On the other hand, some breeds of dogs are such that they do not like water, they get scared to even after hearing the sound of water.
Then it takes a lot of effort while bathing such dogs. Make sure to keep the whole environment positive. At the same time, we should keep remembering God so that they give our dog maximum courage and keep him positive. You take the dog in your hands with so much love and make this moment memorable so that the dog does not panic. It would be even better if you and your partner bathe the dog together.
6. What to do after bathing the dog.
After bathing a dog, it is most important to dry it and its hair. For that, we need a clean dry towel. If your dog's coat remains wet, it may have catch skin disease. To avoid this, clean the dog thoroughly with a towel and dry the coat.
Any hair dryer or a separate hair dryer made for dogs can be used. There are two advantages of using a hair dryer; first, it will dry the hair quickly and secondly, will make him feel less cold. Bathing a dog is a very thankless job.
While Bathing a dog? Clean his ears thoroughly with a piece of cotton. Clean the eyes by taking a little colloidal silver in cotton, taking extra care to do it on the outer part of the eyes.
Make your dog feel special after bathing, give your dog a great food treat.
Conclusion
The basic mantra is that, the more you keep your dog clean, the more healthy, he will be, and the atmosphere of the house will also be pleasant.
2022 Pet Christmas Stocking Your Pet Will Love Read More…